Looking for a meeting room for your whole team to get together? Looking for a meeting room in London for a large number of people can be tiresome, especially when you need to book one at the last minute. Tally Market helps you to search and book meeting rooms that meet your exact needs. You can search by location, and filter by capacity, facilities and price. We have collected a short list of our top meeting rooms for teams of 25+ people, all available to book on Tally Market.
Mercure London Hyde Park
The Mercure London Hyde Park is a full service boutique 4-star hotel in central London. Set in a row of 4 Victorian townhouses overlooking a leafy garden square, this upmarket hotel is a 4-minute walk from Paddington train station for the Heathrow Express and 6 minutes' walk from Hyde Park. The venue hosts 4 meetings rooms, the largest being The Serpentine Suite. It is perfect for a boardroom meeting, for training seminars and presentations. The room is air-conditioned, has a boutique style design with modern décor, high ceilings, as well as being in a quiet and private area of the hotel. A delicious working lunch can also be served within the room or in our Brasserie restaurant.
Meeting Rooms are available for up to 22 people. £800 per day.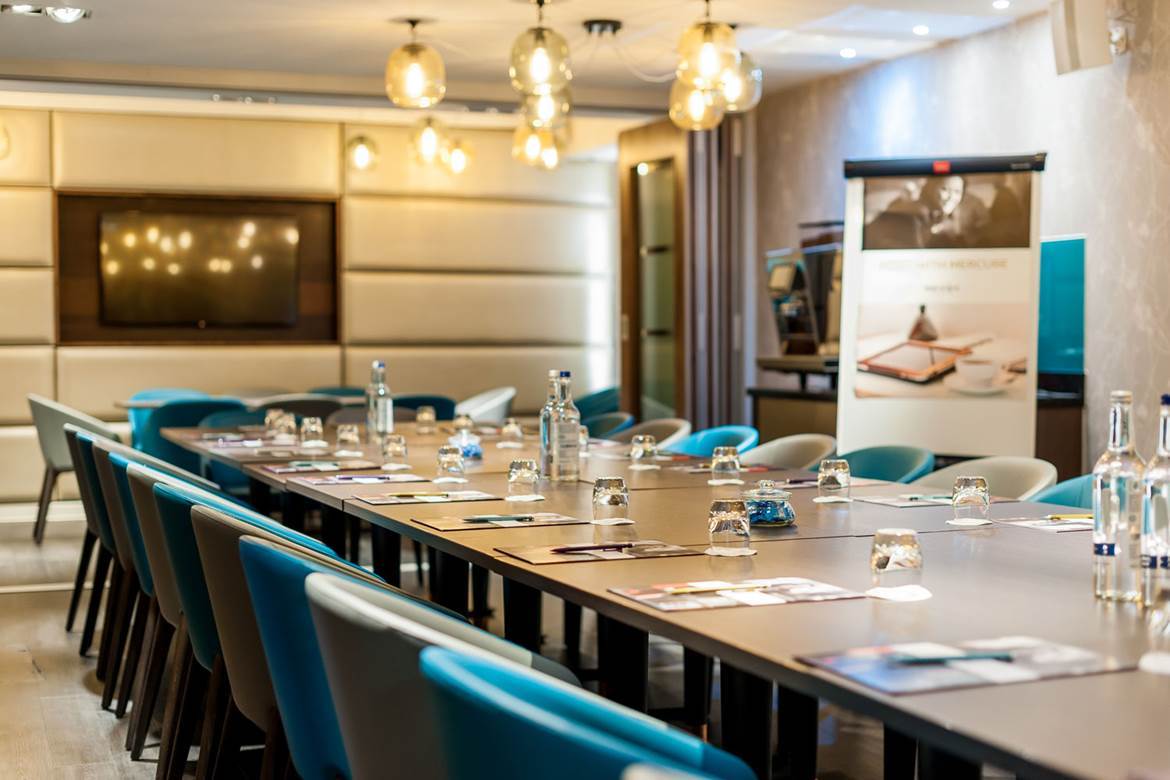 TOG East Side
The beautifully designed TOG office at East Side is located a short walk from King's Cross St.Pancras Station. It offers a range of high-quality meeting rooms all with AV and most with a 'zoom room'. Great for teams wanting to get together in an inspiring space with excellent amenities. Book any meeting room and receive a selection of healthy nibbles, bottled water, a flipchart or whiteboard and super-fast Wi-Fi. Their largest meeting rooms fit a team of 30 comfortably.
Meeting Rooms available for up to 30 people. £1,500 per day.
People's Mission Hall
The People's Mission Hall is located smack-dab in between Whitechapel and Aldgate Underground Stations on the famous Whitechapel Road. It's a beautifully designed workspace with lots of plants and quiet spots to concentrate as well as sofas to chit chat. The workspace has all the facilities you would expect of a top-notch co-working venue, including a great selection of meeting rooms. They also offer bike storage, fully stocked showers and changing rooms with GHD straighteners and Dyson hair dryers for those wanting to cycle in. What's more for the eco-conscious the building is eco-friendly with bio-diverse roofs, low LED feature lighting, 456 interior plants and x5 Carbon offset. Zero waste goes to landfill - it is recycled, composted or converted to energy. Their largest meeting room is perfect for teams of 20-24 people.
Meeting Rooms are available for up to 24 people. £1,000 per day.
Us&Co Monument
Us&Co Monument is only a few minutes walk from Bank, Tower Bridge and London Bridge. A flexible professional working environment with meeting rooms and a stunning breakout and event space with terraces overlooking the City and the Thames. The London venue takes remote working to the next level, by providing an abundance of natural light and chic decor that Us&Co has always prioritised, and delivering forward-thinking businesses with office space in one of the most rapidly-growing areas of London. Their largest meeting room is perfect for teams of 20-24 people.
Meeting Rooms available for up to 25 people. £1,900 per day.