Christmas is around the corner and with the recent lockdown until the beginning of December, who knows whether or not we will be able to celebrate it like normal. While we aren't going to be holding back on the usual decorations and festive spirit - lots of mulled wine and mince pies - when it comes to the yearly work Xmas function, things may look a bit different. The usual team booking of the gloomy city bar is out this year. But look on the bright side – no one is going to be regretting an awkward office hook up when they have to keep two metres apart…
Don't let the social restrictions stop you from your annual shenanigans, so this year change things up and host your own virtual work Xmas party. To help you do so while keeping your colleagues and friends safe, we have pulled together some original ideas that will provide much needed Christmas cheer. This might be an extra lonely time for some of your employees, so show them you care and go the extra mile.
DIY Meal Kits
Move the Xmas party to the kitchen to get your hands dirty in a head to head food competition. Just like offices, restaurants have also had to adapt to the changing climate, and got creative with the fantastic concept of recreating your favourite dishes from the comfort of you and your employees' own home. From recreating Homeslice Pizza, Patty & Bun burgers or Lord of Poke bowl, there are lots of fun and delicious options out there.
Move the Xmas party to the kitchen to get your hands dirty in a head to head food competition. Everyone's a winner, but an eye for presentation could win you extra points if your team has a competitive streak.
Online Carol Service
Something that goes hand in hand with getting us in the Xmas spirit is a good carol service. While we will most likely miss hearing our favourite carols, you can fill that hole for your employees. If you feel nervous about everyone singing up consider hiring a professional musician to lead the session. Get people in the mood by sending them some mulled wine or spiced cider to accompany their musical efforts. It may even help warm up the old vocal chords.
Online Art Competition
Channel your inner Van Gough with a slightly different Xmas party challenge. You'll need to be prepared for this one, so make sure you send all employees a box of supplies in advance, and make sure to tell everyone not to open until your virtual Xmas party. When it's time, all you need to do is explain the challenge and decide on a subject - Xmas themed of course - and have them complete it within 20 minutes. Et voila!
A few ideas to get you going, but please, let your imagination run wild:
A portrait of the boss
Building an elf out of pipe cleaners
A glittery Xmas card they have to send to a team member
An Xmas hat
Virtual Escape Room
Do you run a competitive team? Escape rooms have become popular over the past couple of years, and luckily now you can do it remotely. This is a great way to have fun while also creating a bonding atmosphere - something we are all missing at the moment. A fabulous way of grouping up new members of your team and introducing them to people they may not have interacted with.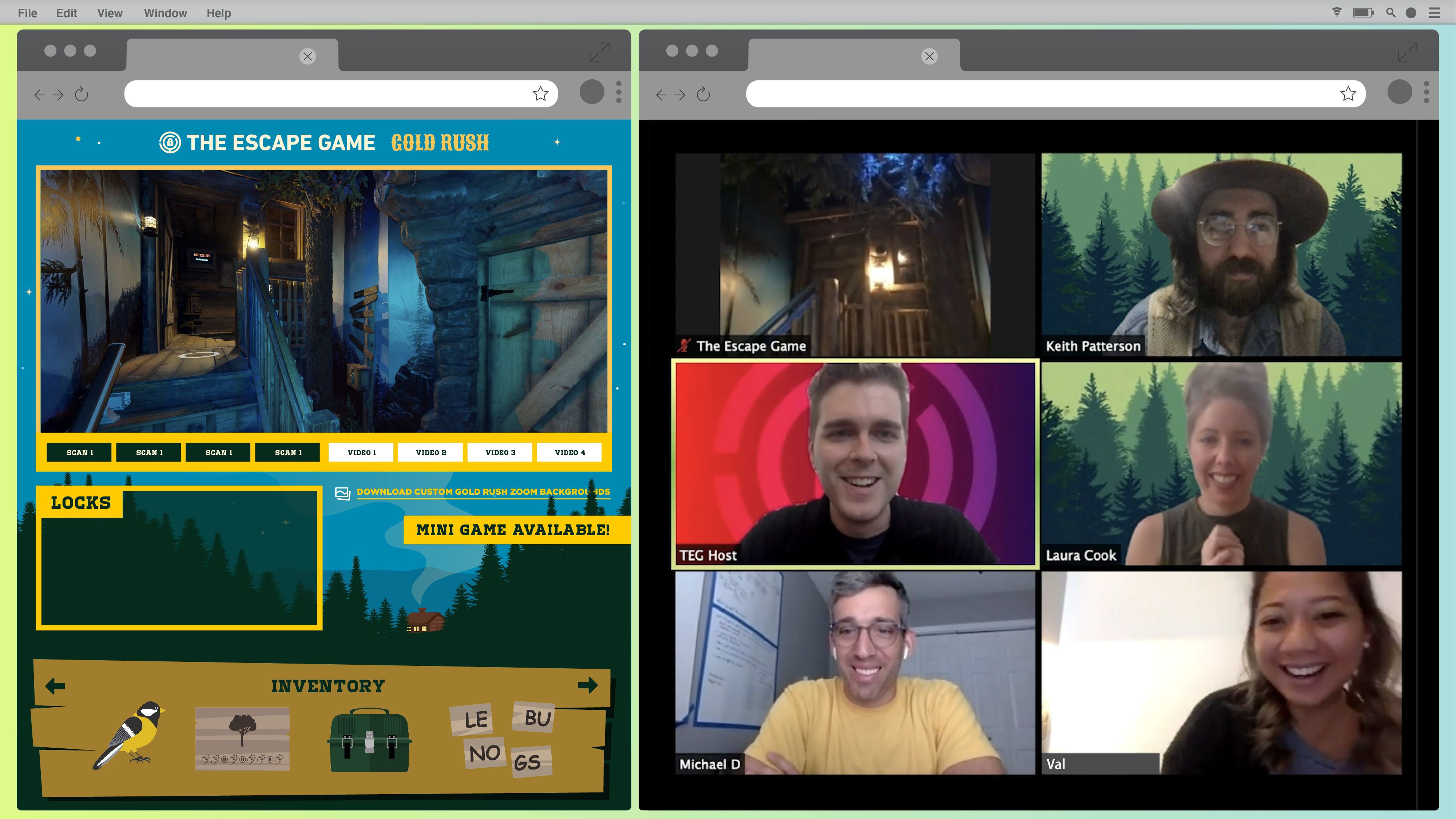 Have a look at these ideas:
Hogwarts - Click here to find out more
The Panic Room - Click here to find out more
Mr X - Click here to find out more

Online Dinner Parties

Is it really a Christmas party if it doesn't involve an over the top meal. Of course we will miss an evening huddled next to our colleagues while we dig into a mountain of food, but it is now possible to replicate the experience virtually. Remote dinner parties are the new way to dine, so order in food locally to support smaller businesses and expense it back to the company. This way everyone can have what they fancy while having a good old natter, along with a cocktail you have just made.

Treasure Hunt: Virtual or Real

If your team are all local to each other, you could consider doing a treasure hunt around local sights, but remember to make sure team sizes stick to the current government guidelines. Even if Boris toughens up the riles and homes can no longer mix, it is a great way to unify and all work towards the same goal. Keep up with each other on Whatsapp to keep the team spirit alive. Or, if people live too spread out, do an online version, with the first clue on your website.

Online Nativity

We all remember the role we played in nativity back in primary school, from Angel number 3, tree in the third row, or if you were lucky enough, Joseph! It's time to take your team back down memory lane, so send everyone a character and a script and tell them they MUST dress up.

Your team will never forget (or forgive) this nostalgic and connecting experience. Give people unexpected roles - we all remember with great fondness the Nativity lobster from Love Actually!

Remote Cocktail making competition

It's time to get jolly and in the spirit of Christmas with a fun remote cocktail making competition. Hone your secret or not so secret mixology skills by conjuring up your favourite cocktail(s). We are well versed in at home drinking, but in a fun turn of events, send out a delivery of alcohol goodies to set your employees up.

We recommend using Heads & Tails, a fantastic company set in West Hampstead, they are now offering nationwide delivery, so that you can have your favourite cocktails delivered straight to your door.

If you want to get in contact with any of our venues or looking for advice on Christmas party ideas then feel free to give us a shout at [email protected]