We've all been there; the WiFi goes down right before an important client call, your flatmates are driving you crazy, or simply your motivation is at rock bottom. Working from home for so long has been tough on everyone and now that restrictions have finally lifted, what better a time to get out of the house and back into your groove! If you're an East London local, then through Tally Market, you can browse and instantly book all the best hot desks near you.
Here are our top picks for the best hot desks in East London;
Mindspace Shoreditch 📍 9 Appold Street, EC2A 2AP
Mindspace Shoreditch, located just only 4 minutes from Liverpool Street station or Shoreditch Highstreet Station is one of the most popular venues on Tally Market - for good reason! It's unique design, vintage furniture, and local artwork make this somewhere you'll want to come back to again and again. Get yourself a spot on the open-plan coworking area located on the 8th floor and help yourself to unlimited tea and coffee all day.
Top Tip: Grab the rest of your team and head down on a Thursday and join in with their weekly members' hour which kicks off at 5pm, after all Thursday is the new Friday!
Hot desks are available for £25 + VAT per day.
Queen Mary University Enterprise Zone 📍5 Walden Street, E1 2EF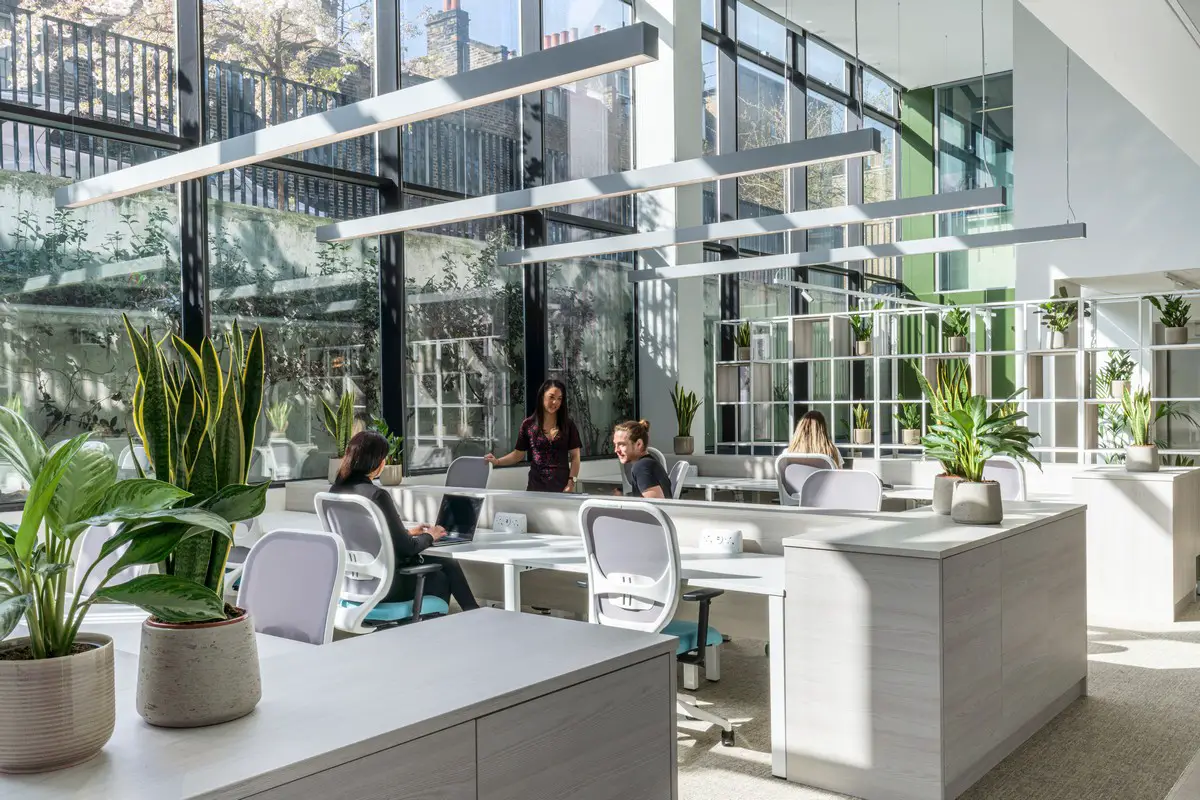 Queen Mary University Enterprise Zone, or QME is a lovely relaxing coworking space that is part of Queen Mary's University. It provides start-ups with access to a flexible and modern workspace, with a particular emphasis on the growth and development of Digital Health, MedTech, and AI SMEs industries. Meeting rooms, hot desks, breakout spaces, a coffee machine, and drinks fridge, as well as some world-class complimentary refreshments, are all available free of charge. They also have a dedicated community manager to assist guests with any queries or concerns.
Hot desks are available for £15 a day + VAT per day.
Meeting rooms are available at £30 per hour for teams of 4 to 12 people.
Whitechapel Think Factory 📍5 Cavell St, E1 2BP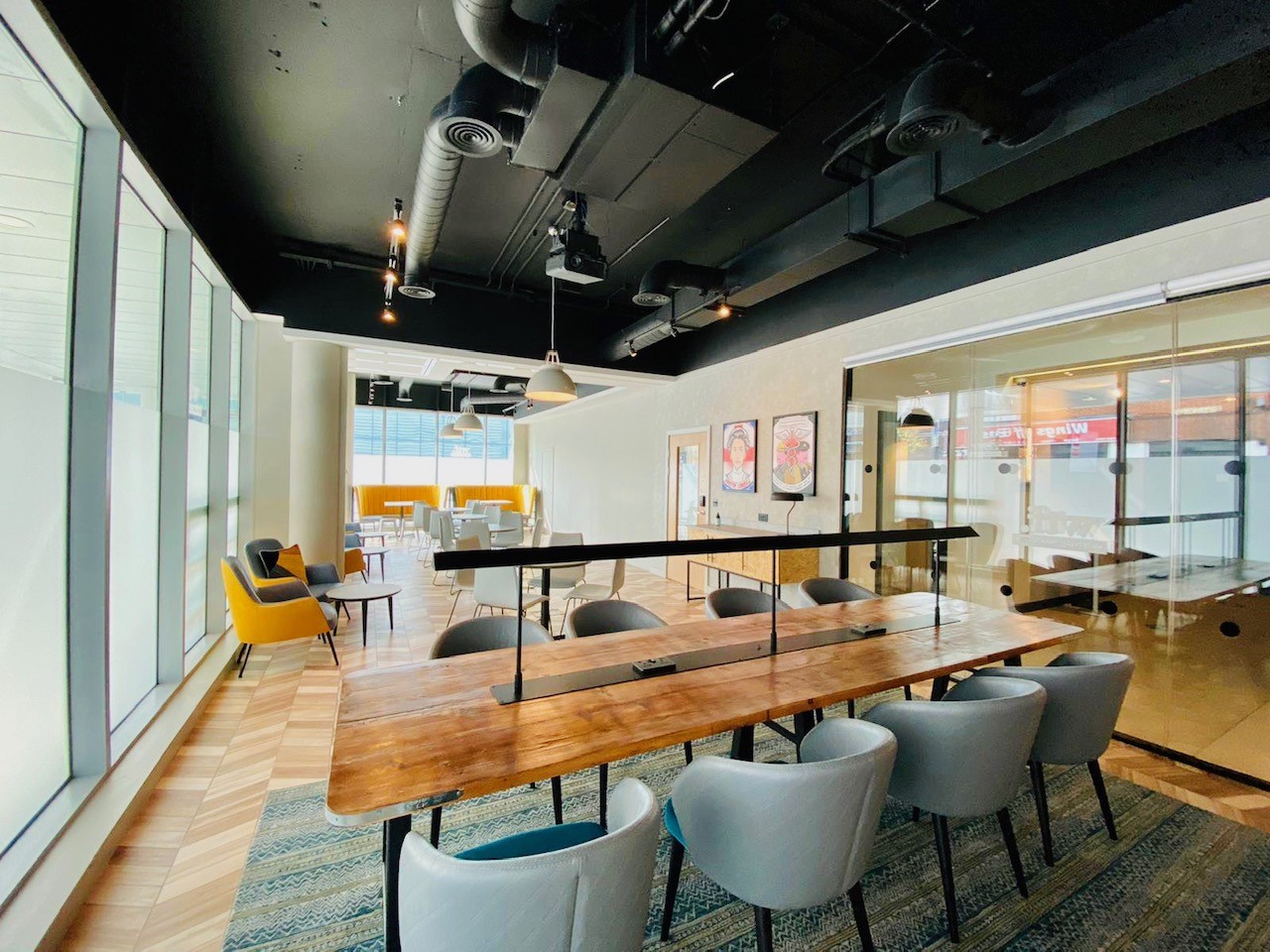 The Whitechapel Think Factory workspace is conveniently accessible to all individuals thanks to the DLR, Overground, Tube, and soon-to-be Crossrail. The space offers natural light from floor to ceiling and can accommodate gatherings of all sizes. Starbucks coffee is also served in the on-site café, and you get free access to their gym. This is the ideal location for any team searching for a flexible working environment.
Hot desks are available for £20 a day + VAT per day.
Meeting rooms are available at £150 per hour for teams of 12 people.
The Co-Dalston 📍584 Kingsland Road, Dalston, E8 4AH
The Co-Dalston is located near Dalston Kingsland station. It has a grab-and-go cafe, pop-up retail, hot desks, a common kitchen, and an outdoor area. This is ideal for individuals or teams looking for an environment that enables a productive day at work, with a friendly and pleasant atmosphere.
Hot desks are available for £20 a day + VAT per day.
Free lunch with every day pass purchase.
Meeting rooms are available at £25 per hour for teams of 6 people.
ARC Club Homerton 📍72-76 Digby Road, E9 6HX
ARC Club Homerton is an inviting coworking space with a relaxing atmosphere. Individuals and teams can take advantage of full office capabilities, including meeting rooms, free printing, and filter coffee, in a design-led setting.
Hot desks are available for £25 a day + VAT per day.
Neighbourhood Works 📍1E Mentmore Terrace, E8 3DQ
In the heart of London Fields, Neighbourhood Works is a lively and stimulating coworking environment. A perfect location that works for everyone, whether you want to get away from the house, find a place to focus, or simply get your team together in the garden. This is the ideal place for individuals or groups of any size to meet and collaborate.
Hot desks are available for £30 a day + VAT per day.
Salty Commune 📍6 Yorkton St, E2 8NH
The Salty Commune is a one-of-a-kind, gothic workshop, housed in an extraordinary deconsecrated church and dedicated to nonconformists in the creative industry. This workspace is perfect for individuals or teams who think outside of the box and are more on the creative side.
Hot desks are available for £15 a day + VAT per day.