We all have a responsibility to be more environmentally and socially conscious. At both an individual and business level. Having a full-time office isn't just financially draining, it can be damaging to the environment as well, especially when it is sitting half-empty most of the time! Instead, you can just book when you and your team need through Tally Market. It is better for the environment and will keep your finance team happy.

Take it one step further and choose a venue that cares about sustainability as well. Here are our top picks for sustainable, environmentally, and socially responsible workspaces that you can book by the day through the platform;
Owned by X+Why who achieved B-Corp status recently. No details have been spared a thought when turning this Whitechapel coworking spot into a sustainable workspace. The space is kitted out with low LED lighting, over 456 indoor plants, and a biodiverse roof. They also send zero waste to landfills, everything is either recycled, sent for composting, or turned into energy.
Book a day pass to People's Mission Hall on Tally Market for £25 + VAT per hour. They also have private offices you can rent by the day and a great event space that can hold up to 250 people.
eOffice Soho gained B-corp status in April 2021, joining just a small handful of office providers in London to have achieved the status.
Both of their London venues are ideally located for anyone needing a central London spot to meet their team. All Tally Market Pro members get a free day pass at eOffice Soho the first time they visit. They also have a selection of private offices bookable by the day.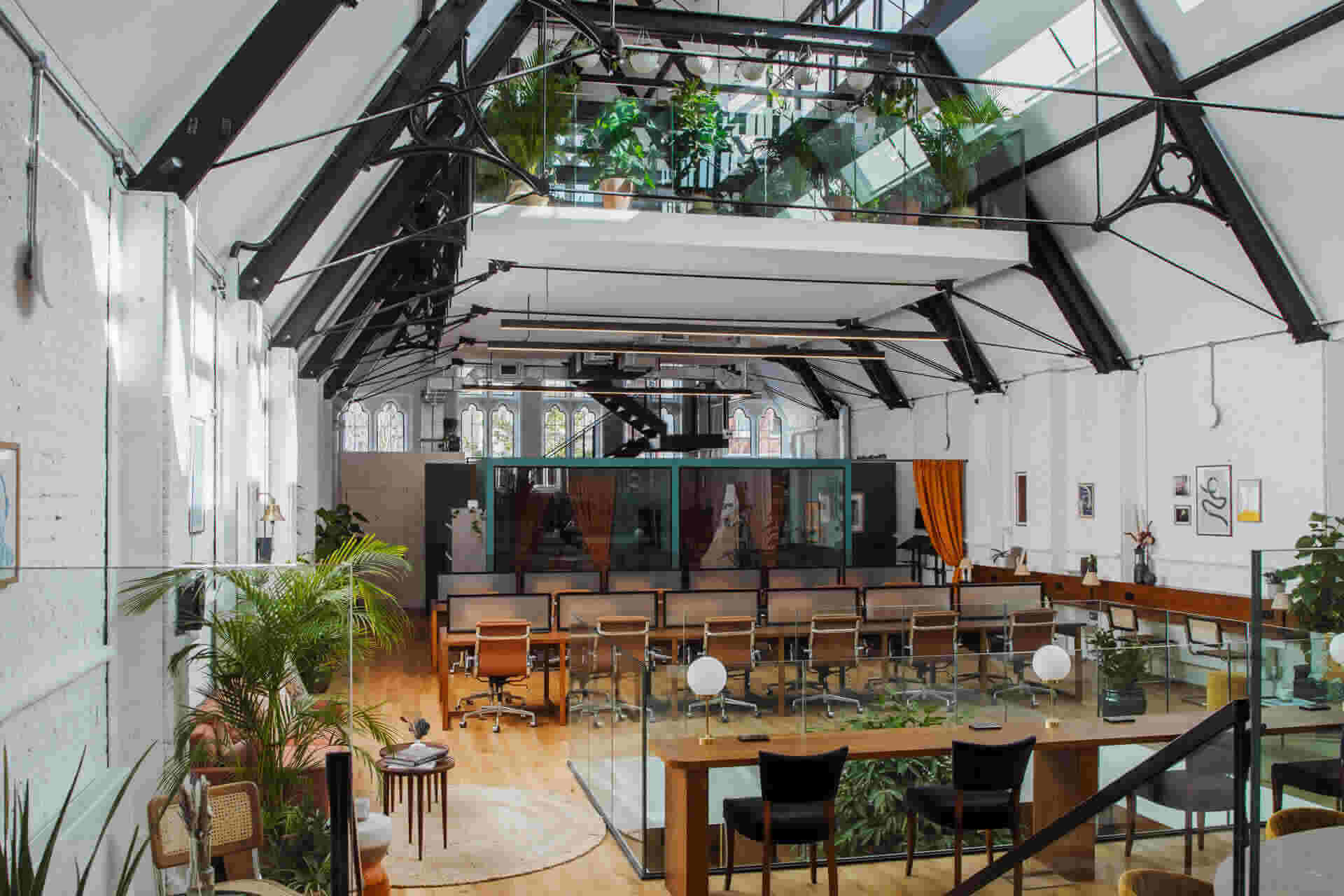 This beautiful Hammersmith coworking venue is taking all of the steps necessary to become fully net-zero by 2030. They have over 200 air purifying plants within the space, including a propagation wall where you can add your own cutting if you would like! They also have a zero-waste policy and encourage a give and reuse ecosystem through their library and clothes donation boxes.
All Tally Market Pro members get a free day pass at Missionworks the first time they visit. They also have a plethora of lovely meeting rooms - all bookable in Tally Market.
This is a wonderful coworking venue located near Kings Cross. Social responsibility is at the heart of everything they do, by giving 100% of their profits to their charity. The Only Connect charity, supports individuals recently released from prison, by helping them find work and engage in music, production, and catering courses. A very worthy cause.
Day passes to Only Connect are bookable on Tally Market for £15+VAT. They also have a couple of meetings rooms just in case you want a private space to meet with your team.