This is a guest post for Tally Market by Zoe Ellis-Moore – owner of Spaces to Places and an expert in the flexible workspace sector.
The rise of the flexible workspace sector has been catalysed by many factors over the last decade, from a growing freelance workforce to increased demand for remote work. It seems clear now that flexible workspaces and coworking facilities are going nowhere any time soon – but the office property market is still struggling to catch up with these changes in the way we work.
Office design, in particular, tends to lag behind our working habits. Even now, despite the fast-approaching flexible future of workspaces, so many office properties are adapting too slowly. Part of the problem is that the wants and needs of the flexible-first workforce are so different to those of traditional office workers.
If you're in the process of rethinking your space to embrace the flexible future but you're struggling to figure out what your target market needs from a workspace, here are six flexible office design features to consider.
Activity-based working layout
The concept of activity-based working is formulated around the idea that different work activities necessitate different settings. For instance, what you want from a space where you're writing a technical report is very different to what you'd want from a space where you're holding a group brainstorming session.
Since flexible offices are home to workers across a broad range of disciplines, carrying out vastly different activities, considering activity-based working in your layout is critical. At the design stage, make sure that you're taking into account the needs of everyone who'll be using your space by zoning it into distinct areas. Of particular importance are quiet focus-zones, social hot-desk banks, and casual breakout areas that can comfortably accommodate small teams.
Digital-first experiences
A considerable slice of the market you target as a flexible office operator is made up of remote workers who are geographically detached from the rest of their team or clients. Meeting their communication needs is one of the best functional design tips for flexible spaces – and the key component is prioritising digital experiences.
What this means in practical terms is making sure that your space is well-equipped for modern lines of communication. The foundation of this approach to digital-first design is a thoughtfully put-together video-conferencing room fitted with excellent AV hardware, but you can back that up with other, more modest spaces. Small sound-proofed video conference booths, such as those on offer at Framery, are just one way of doing this.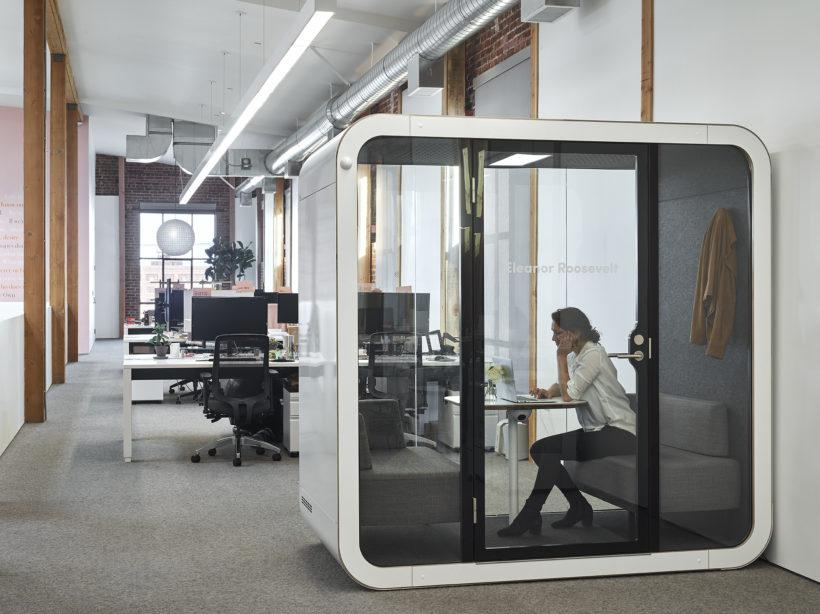 Privacy when it's needed
One of the only potential downsides of flexible workspaces compared to traditional private offices is the relative lack of privacy and security that they offer. But that downside can quite easily be countered with some simple design measures that offer privacy and security when they're needed, without affecting the overall communal essence that's one of the central benefits of flexspaces.
In terms of privacy, the most important design considerations are all based around spaces that allow for private communication. Meeting rooms with privacy glass or blinds and smaller soundproofed video conference booths as mentioned above are both great ideas for catering to occupiers' privacy needs. Security, on the other hand, is a much simpler factor to cater for. Once the basics of access control are taken care of, most other security needs can be catered for with personal lockboxes for hot desks or secure coatrooms/bag drops.
Social-enabling spaces
Aside from privacy and security, the other main concern about moving away from a traditional private office model is that working away from your colleagues can be isolating. And this is with good reason – aside from the benefits of being able to communicate with colleagues face to face, getting enough social contact is core to our mental health.
However, social isolation is primarily a complaint levelled against the idea of working from home, and flexible offices can actually be a net positive move in terms of enabling social contact, provided the space itself is set up to accommodate it. Breakout areas in particular are key to fostering a social environment in a flexible workspace, so they should be built prominently into your design. Aside from providing the space to socialise, also consider hosting social events for your occupiers whether in the form of networking sessions, lunch-and-learns, or even quizzes.
Easy, autonomous access
Flexible workspaces aren't just about facilitating remote workers, they should enable flexibility in all senses of the word. And stats show that one of the most important elements of flexibility for modern workers is flexibility in terms of working hours, with the number of UK employees making use of flexitime increasing by 40% over the last 10 years alone.
Building your space to meet this trend head on means facilitating occupiers who want to work at any hour of the day. In terms of operational policy, that can be achieved simply by staying open 24/7, but that requires some design touches to work effectively. Chief among them are allowing autonomous entry through key cards, access fobs, or biometrics.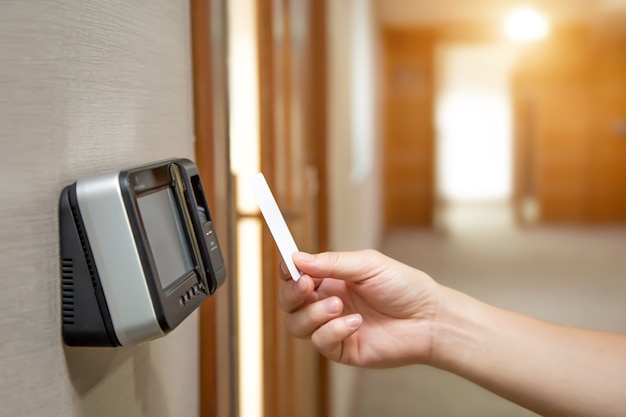 Amenities that matter
Finally, make sure to inject some lifestyle-boosting amenities into your workspace. The built environment sector as a whole is headed in the direction of mixed-use spaces and the idea of 'work-live' destinations is proving to be popular, with many new residential projects building work and leisure facilities into their space natively.
Matching that approach with amenities that make your workspace less of an office and more of a destination is important. There are plenty of ways you can do this, but the most obvious include building a café or bar into the space, creating partnerships with local retail/hospitality businesses, and even considering on-site gyms or creches.