Thanks to an abundance of useful software tools, working remotely couldn't be more effortless. We understand that being picky about what core operational softwares you use is crucial when building up your company, so we've rounded up the best practical, efficient and cost-saving softwares that every team needs whilst working remotely now and in the future.
Charlie HR (For HR)
A cloud-based HR software, which takes away the administrative headache of HR processes. This software is fantastic at monitoring when your team will be away, easily onboard new hires, safely store employee data, review how your team is performing and gather anonymous feedback through polls. Whether your company is 2 or 20 people strong,
Charlie HR is making world-class HR affordable for small business, so you'll be able to make sure everyone is being looked after even when a physical office may not exist. Link your time off and sickness bookings to the Charlie HR calendar and integrations with existing solutions. You can also subscribe to their monthly subscription for HR advice for small businesses.
Xero (For Accounting)
Keep your company one step ahead with Xero accounting software. This fantastic software essentially simplifies the standard accounting process for small businesses, and supports every major financial element you would expect. From sales, purchases, bills and expenses, inventory to payroll, you can create records for customers, suppliers, employees and items. You can now submit returns on Xero directly to HMRC with software that is actually comparable with making tax digital. With over 2 million subscribers, you can work flexibly and keep track of your business from all devices - including your mobile with the Xero app.
Tally (For Workspace)
Forget home-office burnout, bedroom boardrooms and siloed teams, Tally provides companies and employees with a better and more flexible way to work. Tally is an impressive online software that allows you to book remote and flexible working spaces; from hot desks, meeting rooms, and private offices; you'll have your pick how close to home you want to work. Save money with a low cost alternative to renting, and you will be able to pay a flat monthly subscription to use Tally, which you can also stop at anytime. 2020 is definitely of change - so change the way you work to not only benefit your company, but also yourself. All you need to do now is take your pick from a large growing list of co-working and hospitality venues - all on your doorstep. Work your own way.
Happy Monday (For Project Management)
Happy Monday's goal is to help both job seekers and companies find great matches. If you are a small and growing business, Happy Monday is perfect for you to post your jobs and find candidates. You'll be able to post to hundreds of job boards instantly with a lightweight recruiting software that is easy to navigate.
Happy Monday will enable you to hire differently, by matching your team's unique needs with 90,000 people based on skills, experience, shared values and team dynamics, you'll be able to find great candidates who truly match your team.
Gusto (For Payroll)
Launched in 2012 as ZenPayroll, Gusto serves more than 100,000 businesses nationwide. Each year this amazing software processes tens of billions of dollars of payroll and provides employee benefits—like health insurance. Through one refreshingly easy, integrated platform, it automates and simplifies your payroll, benefits, and HR, all while providing expert support.
But, what makes Gusto stand out amongst hundreds of other payroll softwares? The software has distinguished itself with an exceptional user experience sporting, a clean, easy to use interface and an intuitive navigation scheme, which are critical attributes for payroll - a complex and time-consuming job.
Slack (For Collaborations)
Launched in 2013, Slack may have been around for a few years, but there is no denying the power and momentum at which it has taken off in 2020. Slack is an excellent team messaging app where you can message with colleagues and partners concisely, whether you're chatting in real-time or asynchronously.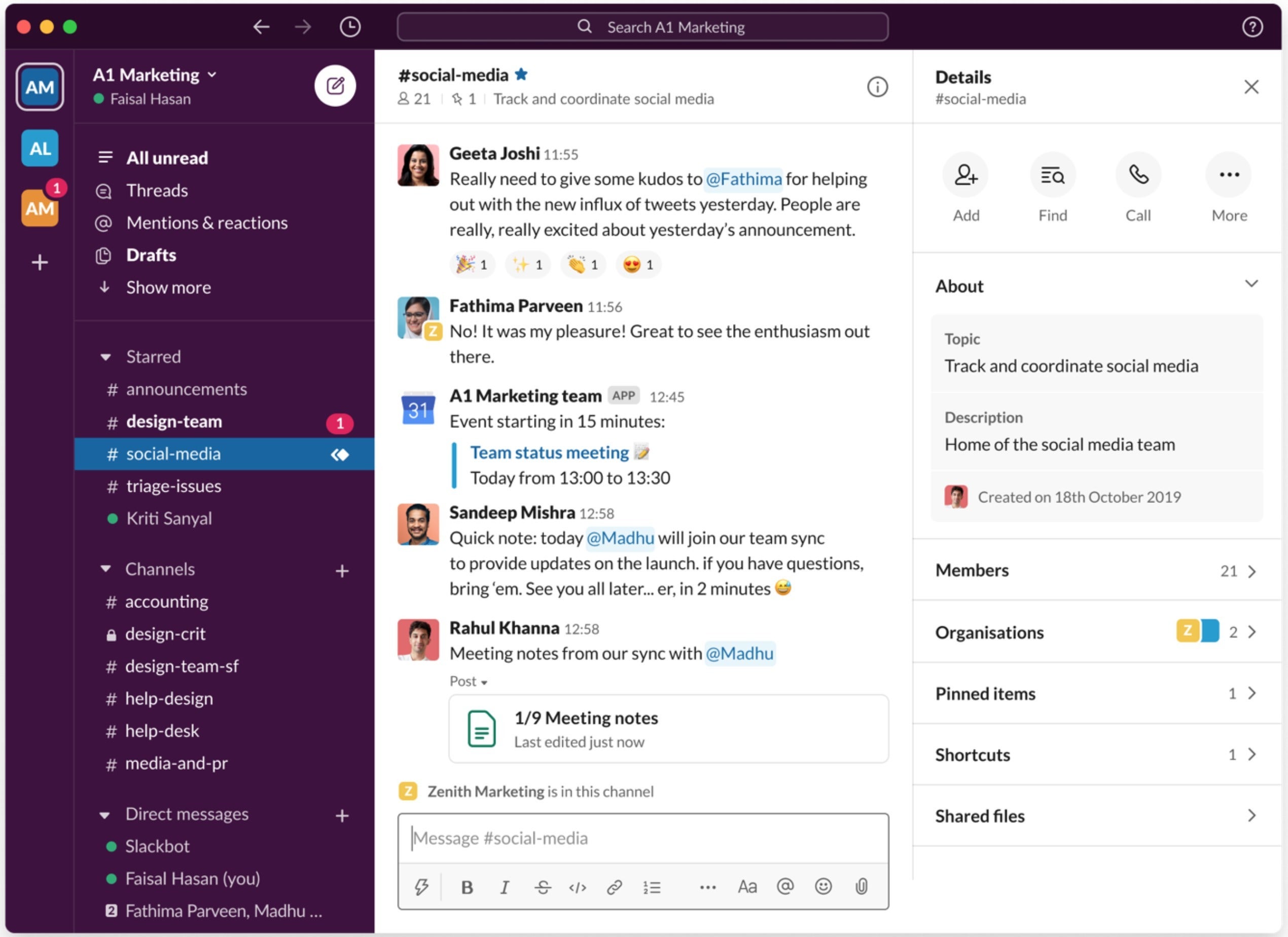 Speed up communications and work more securely by inviting your partners to a channel in Slack. With over 750,000 companies on the software, collaboration has never been easier, where you can now work faster with external clients, vendors and more by working in a channel.